The best Nantucket bike rentals are at Young's Bicycle Shop
Young's has been renting bikes to Nantucket island's visitors since 1931, and those 90 plus years in business helps us provide our customers with the best experience possible!
We offer the highest quality rental bikes on Nantucket, but don't take our word for it. The proof is in our reviews and in the bikes themselves. We partner with Cannondale to provide our customers with the ideal comfort bike for cruising around the island. We also rent mountain bikes for exploring dirt roads and kids bikes and accessories for every age.
Renting bikes from Young's is "The Cycle-Logical Way To See Nantucket" and we're looking forward to helping you get the most out of your island vacation. Check out our models and rates below and reserve yours today!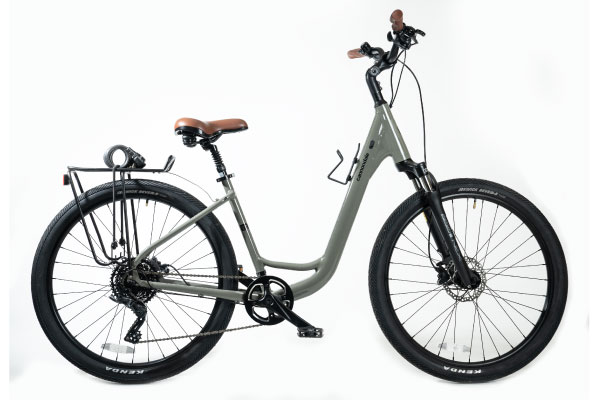 Young's 8 Low-Step Cruiser Bike in Gray
The new Low-Step bike in gray is the updated version of the Young's 8 (for riders 5' 5" to 5' 10"). The plush seat and comfy front suspension make this the ideal way to experience Nantucket by bike. Thanks to the low-step frame design, everyone has the ability to mount and dismount the bike with ease. The bike has 8 speeds, hydraulic disc brakes, bell, and rear luggage rack, which make it the perfect choice to get around the island.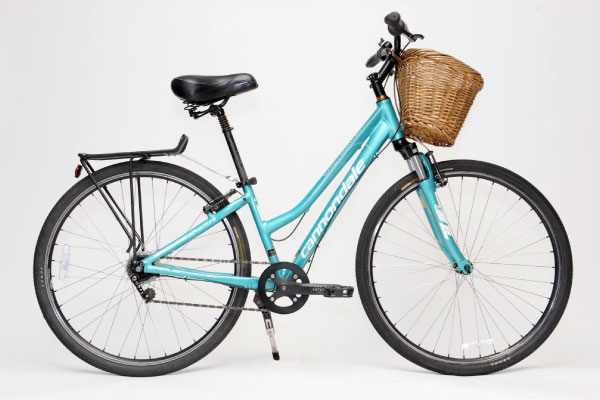 Young's 8 Low-Step Cruiser Bike in Teal
The Young's 8 Low-Step bike in teal has been one of our most popular bikes (for riders 5' 1" to 5' 5"). This generation of the Young's 8 has a comfortable saddle, front suspension, and 8-speed shifter as well as a bell and rear luggage rack. With a low-step frame making getting on and off easy, this bike is ideal for making your way to the beach or out to 'Sconset.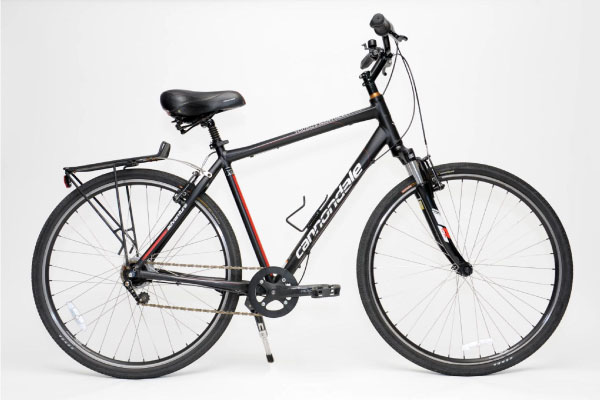 Young's 8 Step-Over Cruiser Bike in Black
The Young's 8 Step-Over bike is easy to ride, comfortable and reliable (for riders 5' 4" to 6' 3"+). The 8-speed shifter, front shock absorber, rear luggage rack and bell make this comfort bicycle a great choice for touring the island. This Young's 8 Step-Over bike will have you smiling from the beach to the brewery.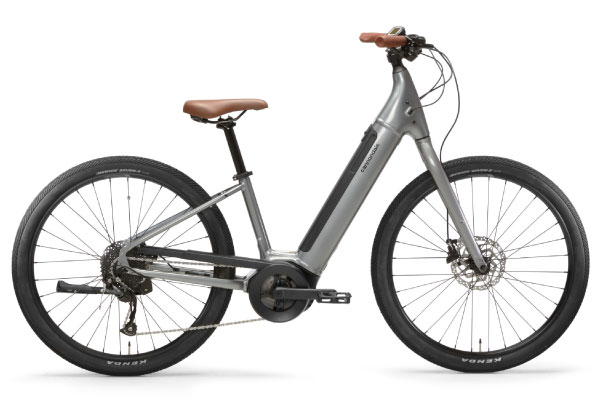 Cannondale Adventure Neo 4 Low Step Electric Bike
We are now renting a limited quantity of electric, pedal-assist bikes to explore Nantucket. The low-step frame makes getting on and off the bike effortless. The Cannondale Adventure Neo 4 e-bike has a comfortable saddle, nine speeds and hydraulic disc brakes, and it features a Bosch pedal-assist drive-unit with a range of up to 65 miles allowing riders to make the most out of their Nantucket experience.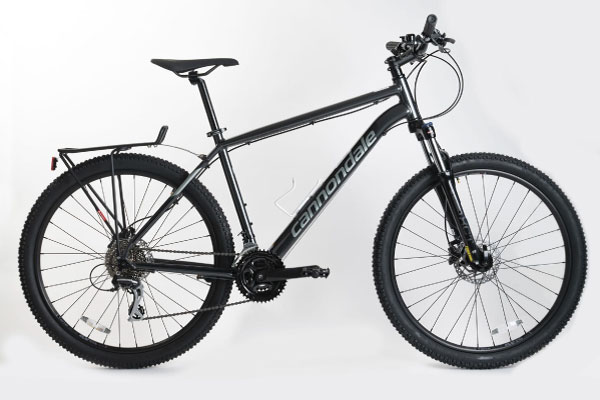 Cannondale Catalyst Mountain Bike
Our Cannondale All Terrain Bike is ideal for exploring the off-road trails and dirt roads of Nantucket. This sturdy, versatile model will also perform well on all our streets, bike paths and the cobblestones. It is available in 4 sizes (5'0" to 6'2+), all equipped with 27.5" tires, disc brakes, front shock absorber, rear luggage rack and bell.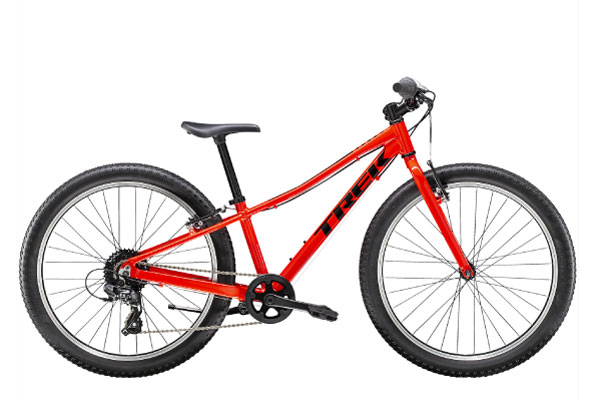 Trek Precaliber 24 Inch Bike (8-12 year olds)
These 24" all terrain bikes from Trek® are for the gear shifting young riders. This bicycle features 8 speeds, handbrakes, rear rack, and a bell. The Precaliber 24 is great for the 8 to 12 year olds.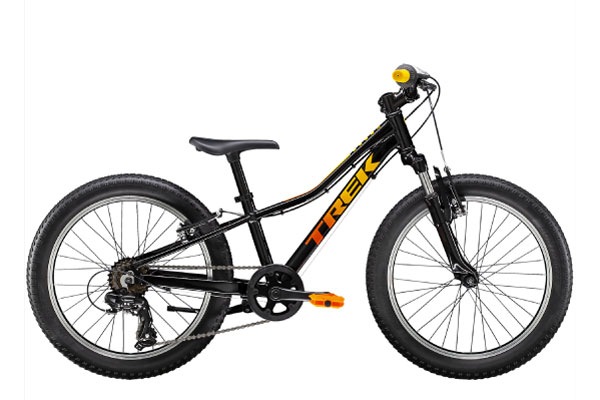 Trek Precaliber 20" Geared Bike (7-9 year olds)
These 20" seven-speed bikes from Trek are for the young riders who are ready to shift gears. The Precaliber 20 comes with hand brakes, a rear rack, and front shocks. This bike is perfect for experienced 7 to 9 year olds.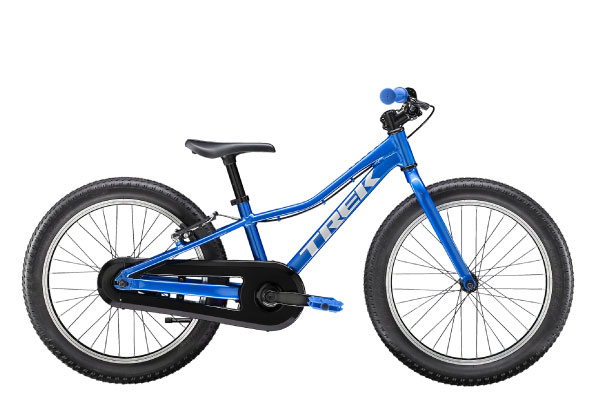 Trek Precaliber 20" Single Speed Bike (6-8 year olds)
These 20" wheel, singlespeed bikes from Trek use foot brakes and come with or without training wheels. Ring the bell and have fun on your ride.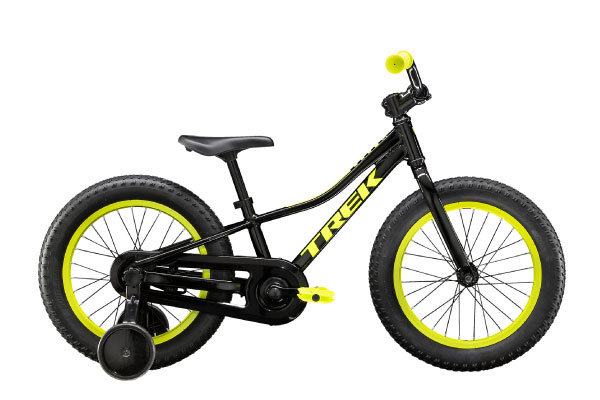 Trek Precaliber 16" Bike (4-6 year olds)
With a 16" wheel and foot brakes, the singlespeed The Precaliber 16 comes with or without training wheels. They are easy and fun to ride for your burgeoning cyclist.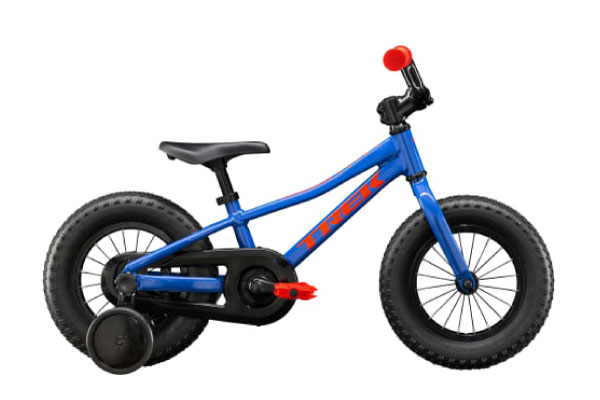 Trek Precaliber 12" Bike (3-5 year olds)
The singlespeed Precaliber 12 features a 12" wheel, foot brakes and a bell, which adds some fun for the first time rider. The bike comes with or without training wheels.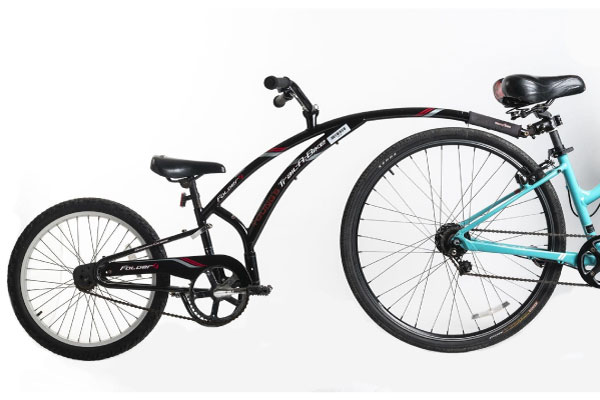 Adams Trail-A-Bike (5-6 year olds)
The Trail-A-Bike is the perfect way to take the younger rider (5-6 year old) on those longer family rides to the beaches of Nantucket Island. They must stay alert and hang on. They can also pedal or just coast, ring their bell and enjoy the view. **We only rent this attachment connected to our Young's 8 hybrid.**
Young's 8 Cruiser Bike With Child Seat
The Co-Pilot Taxi® child seat on our Cannondale® Young's 8 Hybrid bike is the perfect combination of safety and comfort for Nantucket Island. This model is equipped with a comfortable seat and seat post shock, and front shocks for mom or dad. The child seat has a padded bottom and back and has a 3 point harness system. All children must be at least one year old and the seat typically will hold up to a three year old. Weight limit in the child seat is 40 lbs.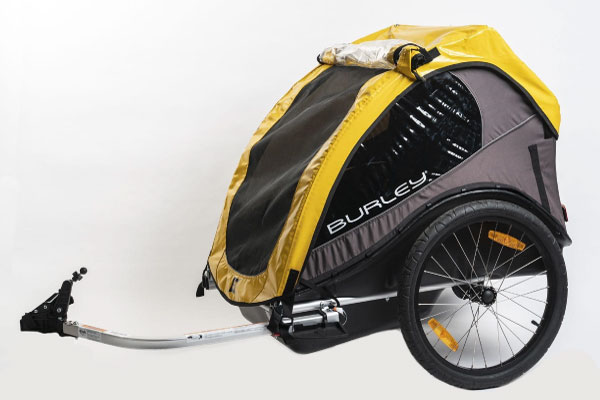 Burley Cub Covered Trailer
Infants (at least 1 year old) and toddlers really enjoy being brought along for the ride. Parents appreciate the comfort, convenience and safety features Burley has designed into their trailers. 5 point harness system for 1 or 2 passengers and room for some gear. **We only rent this attachment connected to our Young's 8 hybrid.**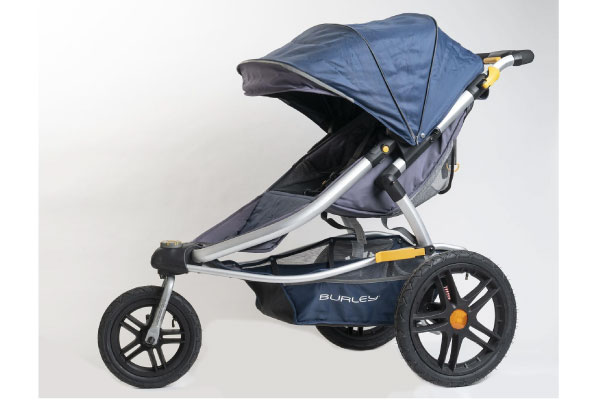 Burley Stroller
The BOB® three wheel stroller is great for maneuvering the non-pedaler child around Nantucket Island. The pivoting front wheel rolls over the cobblestones and to the beach. It folds easily with only one hand!
Included with every bike rental:
Nantucket Bike Rental Prices
| Rental Period | Adult Bike Rental | Kid's Bike Rental (bikes, trail-a-bikes, trailers, strollers, baby seats) |
| --- | --- | --- |
| 4 hr Half Day | $35 | $25 |
| All Day | $45 | $35 |
| 24 hrs | $50 | $40 |
| 2 Days | $65 | $55 |
| 3 Days | $80 | $70 |
| 4 Days | $95 | $85 |
| 5 Days | $110 | $100 |
| 6 Days | $125 | $115 |
| Week | $140 | $130 |
| Extra Day | $15 | $15 |
Electric bikes are $100 per day and $550 per week.
There is a 2 day minimum for advance e-bike reservations in peak season.
Nantucket Bike Rental Details
The Young's experience can't be beat
We pride ourselves not only on the great bikes we rent but also on our tried-and-true rental process. Whether you're a family planning your Nantucket escape or a day-tripper walking in from the ferry, we will get you on the road in our friendly and efficient manner.
How to reserve
For advanced reservations, we make things quick and easy to reserve a bike for your Nantucket vacation with our online reservation form. After submitting the form with your rental information, we will send you a final confirmation within 24 hours. Click here to reserve bikes!
Flexible rental rates
We offer flexible rental rates to meet all of our renters' schedules. Our most popular rental periods are Half-Day, All-Day and weekly rentals.
The Half-Day rental (up to four hours) is ideal for day-trippers or those who just want to explore a part of the island.
The All-Day period allows you to keep the bike until dusk on the same day you started your rental. All of our rental periods include an after hours return option so you can enjoy your time worry free.
Easily update your rental period
Our rate flexibility doesn't end with our after-hours return option: we can accommodate various situations. Does one member of your party want to extend their bike rental? Or is your group just biked out and want to give their legs a rest? Just give us a call, and we can make this adjustment for you, or we can settle up when you ride back into the shop.
We offer delivery
Want to avoid downtown? We also offer delivery and pick up service for any of our conventional rentals for periods of 48 hours or more (DOES NOT INCLUDE E-BIKES, WHICH MUST BE PICKED UP IN STORE). In order to take advantage of this option, we must schedule delivery and pickups in advance, especially in the peak summer season.
Free roadside service
Flat tires can happen, but don't worry! If you get a flat just give us a call at 508-228-1151 and we'll come fix your problem free of charge.
After hours returns
You can return your bikes before we open or after we've closed by wheeling them behind our building to our private parking lot. Just lock your bikes to our bike rack and put your keys through the mail slot in the back door and we'll take care of the rest.
Bike rentals for organizations and events
Young's is uniquely adept at handling large group rentals for situations like boy scout and girl scout troops or large organization events. If you are looking to rent bikes for 20 or more people, contact our team and we can help you get things organized so your group can focus less on logistics and more time exploring the island.