Get in touch with us!
We wouldn't be in business for over 90 years if we didn't prioritize customer service.
Let us help you enjoy your time on Nantucket to the fullest!
Phone
Address
6 Broad St, Nantucket, MA 02554
Email
Hours
Monday: 9:00 AM - 5:00 PM
Tuesday: 9:00 AM - 5:00 PM
Wednesday: 9:00 AM - 5:00 PM
Thursday: 9:00 AM - 5:00 PM
Friday: 9:00 AM - 5:00 PM
Saturday: 9:00 AM - 5:00 PM
Sunday: 9:00 AM - 5:00 PM
Note: our hours change throughout the season
Contact our team
Have a question that you can't find an answer to? Reach out to our team and let us help you have the best Nantucket experience possible!
How to find us
Young's is conveniently located at 6 Broad Street, right up the road from where the Steamship Authority ferries dock.
If you're coming from the Steamship Authority ferries:
Walk right up Broad St! You'll cross Easy St and walk past the Surfside restaurant, Island Coffee Roasters and Nantucket Bike Shop (our competitor) and you'll see our famous sidewalk sign right outside our door.
If you're coming from the Hy-Line ferry:
Walk towards town past the Gazebo and several restaurants, then when you get to the Vineyard Vines store take a right on Easy St. Walk straight down Easy St until the ends at Broad St and Steamboat Wharf. Take a right, follow the instructions above, and we'll be on your left!
If you're coming from the airport:
Taxis and ride share programs can pick up passenger at the airport. They'll take you down Old South Rd to the rotary and bring you into town from there.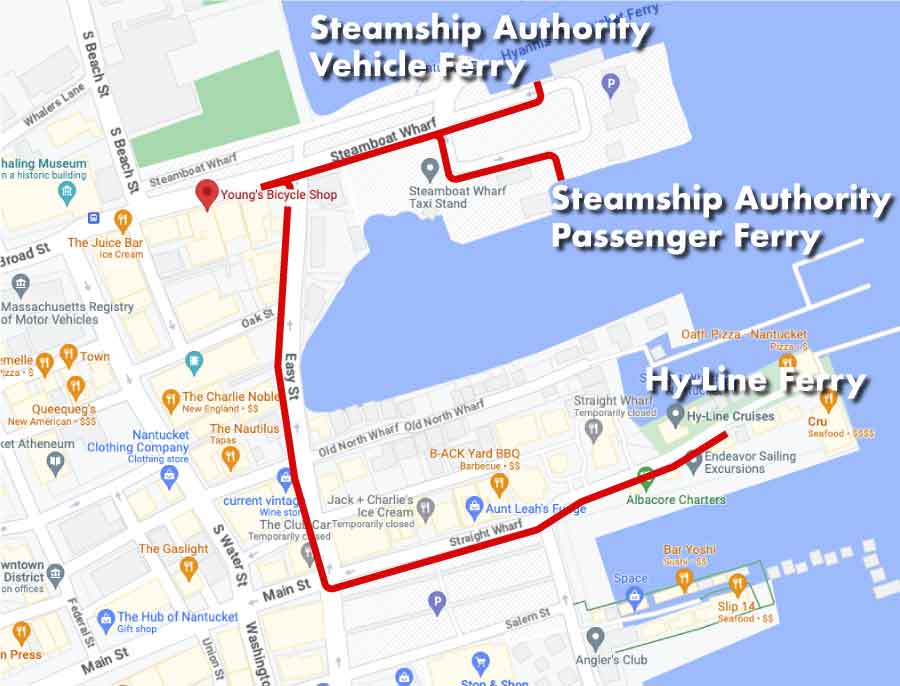 Looking for information about renting bikes, cars, or Jeeps on Nantucket?